Vanilla Custard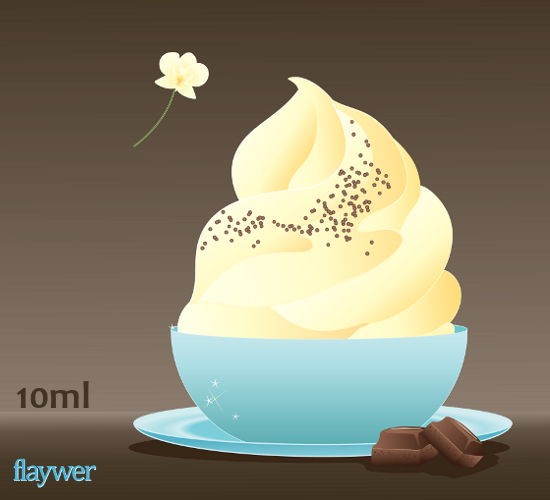 €3.29 *
€3.89 *
(15.42% Saved)
Content:
10 Milliliter (€0.33 * / 1 Milliliter)
Prices incl. VAT plus shipping costs
Ready to ship today,
Delivery time appr. 4-5 workdays
Without a doubt one of the best vanilla flavors available: delightfully creamy custard that you...
more
Vanilla Custard
Without a doubt one of the best vanilla flavors available: delightfully creamy custard that you will never want to put down. Also 1-2 drops in the morning coffee are worth a sin!
Geschmack:
cremig, süß
Viskosität:
dünnflüssig
Farbe:
gelb
Inhaltstoffe:
Künstliches Aroma

,

Propylenglykol

, Wasser
Read, write and discuss reviews...
more
Customer evaluation for "Vanilla Custard"
From:
Michael
On:
6 Nov 2015
Ich wills wieder haben :)
Echt das beste Vanillearoma, das ich je hatte... Hab bestimmt schon 10 -15 verschiedene Vanille Aromen getestet... Aber dieses hier stellt alle anderen bei weitem in den Schatten :)
Nur leider ist es so gut wie immer ausverkauft :(
Ich habe schon Entzug :-)
Bitte holt euch wieder Nachschub !!!
From:
Angelika Krick
On:
19 Sep 2015
Hab jetzt mindestens 10 Sorten Vanillepudding durch probiert.
Aber DAS ist mit Abstand das Beste. Ich hab es mit 10 % angemischt.
Hab jetzt die große Flasche bestellt.....
nicht nur zum Abschmecken
tja, das Vanilla Custard von Capella ist für mich DAS Aroma überhaupt und durchaus auch zum "pur" dampfen (natürlich mit 5-7%). Aber es rundet auch jedes Erdbeer- oder Himbeerliquid wunderbar ab. Einfach eine genial gelungene Aromakoposition! Nur leider seit WOCHEN ausverkauft und mein Lagerbestand ist nun bei schlappen 5ml angekommen...

From:
Admin
On:
5 Dec 2014
Hallo foo, danke für die tolle Bewertung! Vanilla Custard ist in der Tat ein klasse Aroma und wir möchten uns vielmals für die Verzögerung entschuldigen! Leider können wir seit Wochen nichts anderes machen, als darauf zu warten, dass Capella unsere Bestellung fertig macht und verschickt. Wir bitten dies vielmals zu verzeihen!

Für den Augenblick können wir jedem Vanillepudding-Fan das Colonel Custard von T-Juice wärmestens ans Herz legen.

Sofern es Ihnen nichts ausmacht, werden wir diese Antwort und den letzten Teil Ihrer Bewertung mit Verfügbarkeit des
Aromas entfernen, da es ja eine berechtigte Kritik an uns ist und das Aroma selbst nicht betrifft :)
From:
Hellvetic Vaper
On:
6 Aug 2014
Waaaahhhnsinnnnn!!!!!
Dieses Aroma ist der Hammer! Ich habe noch NIE ein so gutes Vanillearoma probiert!

Es schmeckt nicht nach reiner Vanille, sondern eher wie ein sehr guter Vanillepudding aus Grossmutters Küche!

Habe das Aroma in einer 50/50 VPG mit 8% Aroma angemsicht. Toll!!!

Aus meiner Sicht ein absolutes Allday-Liquid!

WIchtig: Das Aroma muss mindestens 5-7 Tage reifen. Die Farbe verändert sich von einem Gelbton zu einem schönen Bernstein.

Also nix wie los! Bestellen!!! Es muss ja noch reifen.... ;)
From:
Maren E.
On:
10 Jun 2014
Puddingalarm
Zum reinlegen gut. Schmeckt wie der Vanillepudding zum selbstkochen. Authentisches Vanillearoma mit einer Spur Karamell - zum reinlegen gut!
From:
Morshi
On:
24 Mar 2014
..dat isset !
Vanille Custard, steht bei mir ganz oben!
Bisher mein bestes Vanillearoma.
Unbedingt mal probieren!
From:
Andre
On:
1 Feb 2014
Super
Damit kann man das Grant`s Vanilla Custard gut nach machen.

15% capella vanilla custard
5% Dulche de Leche von TPA
10 tropfen pro 100ml cotton candy von capella

Super Dauerdampfliquid....
From:
Remy156
On:
8 Jan 2014
Vanilliger geht`s kaum...
Wie schon gesagt....Vanilliger geht`s kaum...Der totale Vanille-Geschmack ohne zu süß oder irgendwie nervig zu sein...Und der Geschmack lässt nicht etwa beim 10ten Zug nach oder so...er bleibt!!!....Ich liebe Vanille....Und nach diesem Aroma gibt es für mich keinen Grund noch irgendwas anderes zu probieren...Ich bleib dabei & bin für immer glücklich ;)...Ich mische erst seit 1 Woche selbst & hab`s mit 10% angesetzt....Im Nachhinein war das glaub doch etwas viel...Trotzdem einfach nur sowas von lecker....!!!
From:
Sascha
On:
26 Nov 2013
Super cremiges Aroma
Dieses Aroma ist der Hammer ich kenne keines was so cremig ist,da ich fast nur Vanillie dampfe mische ich allerdings dieses Aroma noch mit anderer Vanillie damit es nicht zu süß wird,um so länger es steht desto besser schmeckt es dann.
Von mir eine absolute kaufempfellung und volle Punktzahl.
From:
Micha
On:
30 Oct 2013
milde Vanille
Den bisherigen Bewertungen ist eigentlich nichts hinzuzufügen. Wer ein mildes und doch intensives Vanillearoma sucht, das keinen herben Beigeschmack hat, ist hier sicher bestens bedient. Ich mische mit 9% an. Anfangs habe ich noch etwas Etylmaltol dazugegeben, mittlerweile mag ich es lieber pur.
From:
VapeCheck
On:
27 Sep 2013
Ohne Worte :-)
Das Aroma ist der Hammer!

Meines Erachtens eines der besten (wenn nicht sogar das Beste Aroma) Aromen auf dem Markt. Großes Lob an Capella für dieses gelungene Aroma.

Ich habe schon viele Vanille Aromen von unterschiedlichen Herstellern getestet, die waren mir allerdings zu künstlich und sind letztendlich im Mülleimer gelandet.

Geschmacklich ist es wie Vanillepudding, Ihr habt echt den Geschmack eine ganze Zeit lang auf der Zunge, was bei anderen Aromen nicht der Fall ist.


Liquid Rezeptur - VanillaJuice by VapeCheck
-------------------------------------------------------------
50% PG
40% VG
10% Wasser
8% Vanilla Custard (Capella Flavor Drops)

Reifezeit: min. 7 Tage

From:
Carmen
On:
17 Sep 2013
VANILLE-TRAUM pur
Ein besseres Vanille gibt es nicht (behaupte ich mal)

Und die Umgebung hat auch noch was davon, denn es riecht auch richtig toll nach leckerer Vanille.
Leute auf der Straße bleiben sogar stehen und bekommen ein seliges Lächeln.

Mit 8% angemischt ist es genial, mit 1-2 Tropfen Ethyl Maltol wird es sogar noch intensiver.
From:
Gaby B.
On:
15 Jul 2013
Vanille Custard ist eins der Besten Vanillearomen die ich gedampft habe.Es schmeckt wie warmer Vanillepudding.
Dosiert hab ich es mit 7% bei einer 50/50 Basis und 7 Tage reifen lassen.
From:
Maik R.
On:
6 Jun 2013
genutzte Basis: 55PG/35VG/10H2O

Verwendet Menge: 10%
Reifezeit: 0 Tag
Genutzter Verdampfer: Kanger Protank, Hades
Geschmack: Lecker Vanille Pudding.
Aroma Farbe: Leicht gelblich fast klar.
Aroma Geruch: Riecht richtig Derbe nach Vanille Pudding.
Flash: 7 von 10 Punkten
Gesamt: 9 von 10 Punkte.
Fazit: Ich glaub zu den Aroma brauch man nicht viel sagen. Es ist eines der bekanntesten und eines der besten von Capella. Es schmeckt einfach genial nach Vanille Pudding. In Kombination mit Kirsch, Erdbeere oder mein Favorit momentan Himbeere kommt da was richtig leckeres zusammen. Ein Punkt abzug gibt es wegen der hohen Dosierung. Wem das nicht stört den kann ich es sehr empfehlen.
Write an evaluation
Evaluations will be activated after verification.