Capella Aromen - 118ml (4oz)
Ihr findet die 118ml Gebinde ab sofort direkt beim entsprechenden Aroma, sofern verfügbar.

Zur Capella Kategorie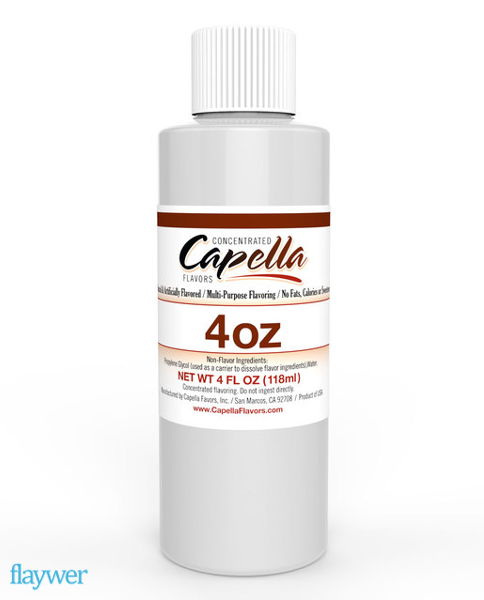 This product is currently not available.
€19.95 *
€24.95 *
(20.04% Saved)
Content:
118 Milliliter (€0.17 * / 1 Milliliter)
Prices incl. VAT plus shipping costs
Ihr findet die 118ml Gebinde ab sofort direkt beim entsprechenden Aroma, sofern verfügbar....
more
Capella Aromen - 118ml (4oz)
Ihr findet die 118ml Gebinde ab sofort direkt beim entsprechenden Aroma, sofern verfügbar.
Zur Capella Kategorie

Für alle, die nicht genug von Capella bekommen, gibt es einige
der leckeren Kreationen nun auch in 118ml (4oz) Flaschen.
Die Aromen werden in Kunststoffflaschen ohne Tropfer geliefert.
Dieselben Aromen in 10ml Glasflaschen mit Tropfeinsatz findet ihr
unter http://flaywer.de/de/capella-flavors/
ACHTUNG:
Die Aromen mit einem *** können nur innerhalb Deutschlands verschickt werden.
Bitte nicht aus dem Ausland bestellen!
Flavours marked with *** can only be shipped within Germany.
Please do not order these from abroad!
Hinweis: Sie sind Geschäftskunde und benötigen regelmäßig eine bestimmte
Sorte, die nicht gelistet ist? Schreiben Sie uns einfach an!

Aktuelll führen wir folgende Geschmäcker:
Cake Batter ***
Cinnamon Danish Swirl
Cola ***
Double Watermelon
French Vanilla
Glazed Doughnut
Graham Cracker ***
Harvest Berry
Hazelnut V2
Honeydew Melon
Horchata
Lemon Meringue Pie ***
New York Cheesecake
Orange Creamsicle ***
Peaches and Cream
Strawberries and Cream ***
Sugar Cookie ***
Sweet Strawberry ***
Sweet Tangerine ***
Sweet Watermelon ***
Vanilla Bean Ice Cream
Vanilla Custard
Vanilla Custard V2
Read, write and discuss reviews...
more
Customer evaluation for "Capella Aromen - 118ml (4oz)"
From:
Peter
On:
20 Mar 2020
Nur dieses...;)
Ohne Vanilla Custard kein Dampferleben - mein persönliches Rezept:
10% Vanilla Custard von Capella,
2% Dulce de Leche (mit oder ohne Caramel)
2% New York Cheesecake
1% Ethyl Maltol
0,2% MTS Vape Wizard
Ich mische mit 50/50er Base und 4mg Nikotin -
nach einer Woche Reifezeit traumhaft - nach 2 Wochen siebter Himmel ;)
...davon träumt sogar Grant ;))
From:
Vape Lover
On:
10 Jan 2020
Capella Vanilla Custard V2
Lieferung ging schnell .
Preis Leistung * * * * * .
10 % Aroma
10 % N. 20 mg/ml = ca. 2mg N.
20 % D. Wasser .
60 % VG
0 - 10 Tage Reifezeit .
Einfach nur lecker im
Crown 4 0,4 Ohm Coil .
Dauerzüge hintereinander weck , nach richtiger Einweihung des Coil , keine Probleme , wie kockel geschmack oder auslaufen .
Habe immer wieder was anderes an Aromen & Liquid quer durch die Bahn probiert und bin immer wider zurück zum Capella V. Custard V2 .
Das Capella V. Custard V2 ist und bleibt für mich mein all Day ' s Liquid .
Einfach nur lecker .
Es ist mir eine Freude , wenn ich helfen konnte .
Viele Grüße
Vape Lover



From:
yoshi
On:
23 Oct 2019
Super Sweet halt
Ich habe insgesamt 5 Sweetener getestet und Capella Super Sweet war mein persönlicher Testsieger. Es ist sehr süß und eine Dosierung von ca. 3 Tropfen auf 10 ml Liquid reichen mir vollkommen aus. Die Süße ist sehr neutral, was gerade bei leichten Aromen von Vorteil ist. Und hier habe ich die 4 OZ Flasche bekommen. Ständig die 13 ml Flaschen zu kaufen und dann zu entsorgen muss nicht sein. Aber eine 13 ml Flasche sollte man haben, da die 4 OZ Flasche keine Dosierspitze besitzt.
From:
Stephan
On:
9 Jun 2019
Alles Top
Per Paypal gezahlt. Schnelle Abwicklung und Lieferung. Alles Top!
Write an evaluation
Evaluations will be activated after verification.