Cookie preferences
This website uses cookies, which are necessary for the technical operation of the website and are always set. Other cookies, which increase the comfort when using this website, are used for direct advertising or to facilitate interaction with other websites and social networks, are only set with your consent.
These cookies are necessary for the basic functions of the shop.
"Allow all cookies" cookie
"Decline all cookies" cookie
Customer-specific caching
These cookies are used to make the shopping experience even more appealing, for example for the recognition of the visitor.
Heisenberg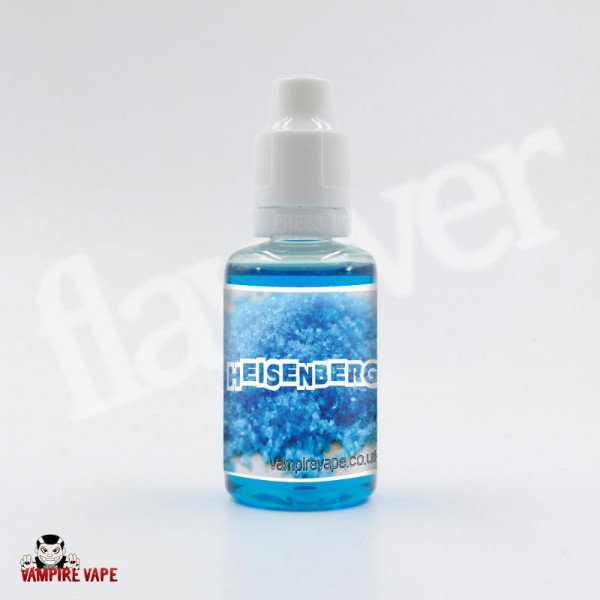 This product is currently not available.
Please inform me as soon as the product is available again.
€4.95 *
€13.95 *
(64.52% Saved)
Content:
0.03 Liter (€165.00 * / 1 Liter)
Prices incl. VAT plus shipping costs
Order now. Will be imported for you. Ready for shipment in aprox, 4-6 weeks.
Suchen Sie nach leckeren Beeren-Mischungen? Heisenberg führen wir leider nicht, aber wir haben...
more
Heisenberg
Suchen Sie nach leckeren Beeren-Mischungen? Heisenberg führen wir leider nicht, aber wir haben eine schier unbegrenzte Anzahl an leckeren Fruchtaromen: Beeren
---
So ungewöhnlich wie der Name, so vielschichtig und faszinierend ist auch der Geschmack dieses Aromas. Eine komplexe, nicht in allen Nuancen definierbare Mischung aus dunklen Beeren, leckerem Anis und einem Hauch Minze, die für eine leichte Frische sorgt. Im Detail gehen die Wahrnehmungen etwas auseinander, aber eins steht fest: Heisenberg ist definitiv das bekannteste und beliebteste Aroma aus dem Hause Vampire Vape!
Anmerkung: Vampire Vape ist vor allem bekannt geworden in der sogenannten Dampferszene. Die Aromen sind aber zu 100% Lebensmittelaromen.
Read, write and discuss reviews...
more
Customer evaluation for "Heisenberg"
From:
Kugelfisch
On:
27 Oct 2018
Nichts für mich
Ich mag Blaubeeren und auch Menthol, finde die Frucht hier aber zu künstlich. Ganz selten mag ich es mal, kann aber auch gut drauf verzichten. Ein Kollege hingegen ist völlig begeistert.
Man sollte es am besten vorher mal probieren. Offensichtlich scheiden sich am Heisenberg die Geister.
From:
Konstantine
On:
30 Dec 2016
Terrific
Great flavor. Tastes like blueberries with a hint of menthol. Reminds me of those blue iced treats I used to eat as a kid in the summer.

I ordered this for the first time from Flaywer along with a 30ml Red Astaire which is my favorite these days. Package is authentic and sealed, comes well packaged, and shipped promptly. They even sent me a 10ml pipette, a 30ml mixing cup, a small sample flavor, and a pack of gummy bears as gifts! What a pleasant experience from Flaywer!!! I will definitely be purchasing from them again. Great shop, great prices, and the most reasonable shipping rates I found thus far in the EU.
From:
Fritz
On:
31 Aug 2016
War kurz mein all day vape
Ich 'komme' von PinkSpot Vapors, und war von der Komplexität überrascht ... aber es stimmt schon, das es zwischen Klo-stein und Mundwasser schmeckt - es ist ein künstlicher Geschmack, den ich von einem Energie Drink erwarten würde. Es wurde von Red Astair ersetzt, das geschmacklich stimmiger und noch komplexer ist.
From:
BiteMan
On:
21 Jul 2016
Besser vorher mal nach möglichkeit beim Bekannten probieren
Nach dem ich nun total auf Red Astair sowie Black and Blue stehe, dachte ich mir probiere ich mal Heisenberg, wenn das auch so viele mögen, dann kann das ja nur gut sein.

Mir schmeckt es jedoch leider nicht. Anis schmecke ich kaum, Beere auch weniger. Das Hauptaroma ist aus meiner Sicht das Gleiche welches ich von amerikanischen Root Beer kenne. Als ich das erste mal Root Beer trank, trank ich es das letzte mal. Es hat aus meiner Sicht einen medizinischen Geschmack von Mundwasser. Aber dieser Gemschack soll wohl Beere dastellen. Ich erinnere mich noch an meine Kindheit, unsere amerikansiche Nachbarin hatte ein lilanes Wassereis und das schmeckte genau so. Ich denke wem dieses künstliche Beeren Aroma gefällt, der fährt voll drauf ab. Aber ich bereue meinen Kauf und hoffe dass es noch etwas reift oder mein Geschmack etwas daran findet.

Was mir ebenfalls aufgefallen ist, dass es weniger komplex schmeckt als Red Astaire. Bei Red Astair habe ich immer mal wieder feine Geschmackselemente herausgeschmeckt wie Vanille und unterscheidliche Früchte. Bei Heisenberg schmecke ich irgenwie nur dieses Lilane Wassereis welches mich an Root Beer erinnert mit einem Hauch Menthol.


From:
Torsten W.
On:
5 Jun 2016
Geiles all Day Stöffche!!!
Einmal probiert und nicht mehr davon los gekommen. Egal welches liquid ich probier. Heisenberg ist und bleibt das beste. Wenn ich mal was Abwechslung brauch kommt mal nen schuss Red Astaire dazu oder was Black Ice etc.

Angemicht in einer 50:50 Base mit 2mg Nikotin und 10 - 12% Aroma.

Dampfen tu ich es im IJoy Limitless rdta (was für ein brutal geiler Verdampfer ) bei 50 Watt und dual clapten coil mit 0.35 ohm.

Ich brauch nichts anderes.
From:
Andre
On:
31 May 2016
Love it or hate it
Dieses Aroma polarisiert wie kaum ein anderes. Die einen lieben es, die anderen finden es total ekelhaft. Ich gehöre zu letzter Kategorie. Das Aroma schmeckt erst mal nach Früchten mit mentholiger Frische. Aber beim Ausatmen durch die Nase stockt mir jedes mal der Atem, Irgend was ist da drin, das heftig in der Nase beißt.
Angemischt mit 8% in 50/50 Base mit 6mg. 2Wochen Reifezeit.
From:
Maik H
On:
4 Apr 2016
Sehr komplex
Wonach es genau schmeckt ist wirklich nicht einfach zu sagen. Beere/Absinth/Lakritz/Menthol/Minze. Bislang habe ich kaum eine Frucht herausschmecken können. Dennoch finde ich es extrem Klasse. Das Aroma selber bringt einen sehr starken throat-hit mit sich. Denke mir, dies liegt am Menthol oder der Minze?!
Ich kenne mehrere die dieses Aroma aber auch widerrum verfluchen und als abartig definieren. Klostein/Spülli o.ä. höre ich immer wieder. Ich weiss zwar nicht wie Klostein schmeckt, aber ich kann es nicht bestätitgen. Es riecht jedoch extrem nach irgendwas undefinierbarem. Scheinbar liebt man dies Aroma und man hasst es total!


Angemischt mit 10% auf 50/50 5mg
Gemdampft mit der Ego One 1,2Ohm

From:
Mathias
On:
15 Mar 2016
Einfach spitze
Nicht zu extrem im Geschmack, erfrischend und lecker! Kann ich nur jedem empfehlen mal zu probieren.
From:
Letizia
On:
30 Nov 2015
wirklich nicht schlecht
ich mag eigentlich keine Menthol oder Minze Aromen, aber dieses schmeckt mir recht gut.
From:
taps
On:
10 Nov 2015
Sehr gutes Aroma.
10%, 50/50, 3mg. Subohm.

Es ist schon was feines. Vorallem für Breaking Bad Fans ansich ein must-have. Der Geschmack ist schwer zu beschreiben. Jedenfalls ist er herrlich komplex. Es erinnert mich an so vieles und dann doch wieder an garnichts weil es so einzígartig ist. Menthol und Minze kann ich nur wenig schmecken. Beeren und Absinth schon eher. Das Aroma bringt einen Throathit mit. Nicht so stark wie das T-Juice Green Steam aber man merkt was. Ich denke mit einem Schuss Menthol wird sich das legen und es wird mehr Süße zum vorschein kommen.

Zum Kaffee schmeckt es wie süße Grapefruit, nicht zu herb und nicht sauer. Ich meine sogar, dass es ähnlichen diesen blauen Schlumpf Gummibärchen schmeckt.

Jedenfalls ist zu sagen dass jeder Zug andere Feinheiten zu Tage bringt und der Nachgeschmack sehr lange anhält.

Ich gebe 7 Punkte mit Tendenz nach oben.
From:
gonzo
On:
4 Nov 2015
orgasmus pur
schmeckt einfach geil......
fruchtig, leicht absint und leicht minze.
habe es nicht bereut.
10 % auf 50/50

Smoke tfv4 dualcoil rba mit 0,5 ohm
From:
Herbert
On:
31 Oct 2015
Super
Meine Empfehlung für die Dosierungsliste:

8% mit 55/35/10 - 6mg, meine Reifezeit:14 Tage.
Lemo 2 / Kanger Subox Mini: 1,2 Ohm / 12 Watt

10 Sterne - Super
9 Sterne - Sehr gut
8 Sterne - Gut

Das muss man probieren !
From:
Patrick L
On:
20 Oct 2015
Einfach genial
Ich schreib hier mal die erste Bewertung auch wenn die Bestellung noch nichtmal verschickt wurde. Benutze das Aroma nämlich schon ein paar Monate quasi ausschließlich.

Das spricht auch schon für sich, kein Liquid dampfe ich so lange wie dieses.
Dieser Mix aus Beeren, mit leichter Absinth-Note und dazu die Minze(kein Menthol) ist einfach total genial. Ich habe all meine Bekannten mit diesem Liquid "infiziert".

Anmischen tu ich das Liquid mit einem Milchaufschäumer mit Heizfunktion. Es braucht bei mir mit dieser Methode keine Reifezeit mehr, es kann direkt in den Verdampfer. Ich misch meist 2 Flaschen a 100ml zugleich an, dementsprechend steht eine Flasche ne ganze Zeit bevor ich sie anbreche, und eine Verbesserung im Geschmack ist nicht feststellbar.

Anfangs hab ich mich nicht getraut das Aroma zu kaufen weil es nur die großen 30ml Flaschen gibt und es ärgerlich wäre das entsorgen zu müssen wenns nicht schmeckt, aber hab mich dann zum Glück doch zum Kauf durchgerungen.

Anmischen tu ich es mit 10% in einer 60:30:10 Base mit 6mg Nikotin. Gedämpft wird es bei mir Temperaturgeregelt in einem Flash E Vapor V3 und in einem Horizon. Beide mit 0,35er NI200-Draht Single-Coil gewickelt auf 0,15Ohm.

So, damit ist glaub ich alles wichtige gesagt, nun kauft das Zeug, ihr werdet es nicht bereuen;)
Write an evaluation
Evaluations will be activated after verification.