Sweet Leaf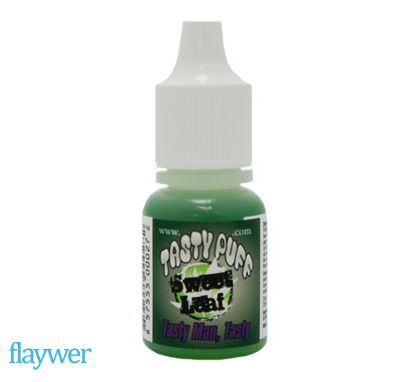 This product is currently not available.
Please inform me as soon as the product is available again.
Quantity
Unit price
Reference price
To

5

€3.49 *
€0.48 * / 1 Milliliter
From

6

€3.07 *
€0.42 * / 1 Milliliter
From

12

€2.55 *
€0.35 * / 1 Milliliter
Prices incl. VAT plus shipping costs
Out of stock. Available in aprox. 4-6 weeks
Hier scheiden sich die Geister. offiziell ist dieses "süße Blatt" Marihuana nachempfunden....
more
Sweet Leaf
Hier scheiden sich die Geister. offiziell ist dieses "süße Blatt" Marihuana nachempfunden. Während aber einige das Aroma sehr authenisch empfinden, schmecken andere nur eine leckere Fruchtmischung, die wenig dem bekannten Vorbild zu tun hat. In jedem Fall aber ohne THC.
Read, write and discuss reviews...
more
Customer evaluation for "Sweet Leaf"
From:
Kugelfisch
On:
27 Oct 2018
Vielleicht eher andere Blätter
Ich wüsste gerne, was sich der Mischmeister in seine Tüte gerollt hat. Es schmeckt weder nach Purple Haze, Cheese, Sour Diesel oder sonstige Varianten.
Dass es überhaupt nicht schmeckt kann ich aber auch wieder nicht sagen. Der Pinienwald trifft es da schon eher. Da ist definitiv irgendwas mit aromatischen Blättern bei, was auch wieder irgendwie fruchtig ist. Es wird bestimmt seine Liebhaber haben. Ich fand es bei 5% schon ganz schön intensiv.

Irgendwie ist es auch wieder gut, dass der Geschmack nicht gerade authentisch ist. Man möchte vielleicht nicht unbedingt rumrennen und eine Grasdampfwolke nach der anderen produzieren.
From:
Nadine
On:
29 Jun 2016
Lecker, aber leider ein wenig lasch
Ich finde, es schmeckt nach Grapefruit. Allerdings muss man sehr hoch dosieren, um überhaupt einen Geschmack ins Liquid durch dieses Aroma zu bekommen. Das finde ich schade, denn grundsätzlich schmeckt das echt ziemlich gut.
From:
Admin
On:
29 Jun 2016
Hallo Nadine,

lieben Dank für deine Eindrücke. Ist aber wirklich Sweet Leaf gemeint?
Falls nicht, kannst du gerne einfach die Bewertung nochmal beim richtigen Aroma abgeben.

Viele Grüße Flaywer

From:
Öida
On:
2 Nov 2015
speziell, aber lecker
Weniger Cannabis zum Rauchen als eher die grünen Lutscher die's in manchen Growshops gibt. Ein honigartiger, süßer Geschmack mit einer leichten Pinienwald-Note der mir von den Hanf-Aromen immer noch der liebste ist.

Mische bei 3-4% (8 Tropfen auf 10ml)
From:
easyjones
On:
8 Aug 2014
weder noch...
Weder Cannabis, Marihuana oder was auch immer noch Fruchtiger Geschmack...
Habe auch hier alles zwischen 5 und 15% mischverhältnis probiert, leider ohne dampfbaren Erfolg. Vielleicht waren auch hier 5% schon zuviel. Aber es schmeckt einfach nach... nicht viel. Ich kannst nicht beschreiben. Vielleicht wie ganz milde Tabakblätter?!
Verwende es ab und zu im 1% Bereich um Tabakliquids zu ergänzen... das aber auch nur um es aufzubrauchen.
Sorry, aber hier würde ich von kauf abraten, damit lässt sich wirklich nichts anstellen, meiner Meinung nach.

Klar auf so eine ungenaue Bewertung könnte man auch verzichten... nutzt ja letztendlich auch niemandem was. Aber ich denke man sollte einfach wissen dass dieses Aroma schwehr einzuordnen ist. (Und ja ich weiss wie ''Gras'' schmeckt)
Write an evaluation
Evaluations will be activated after verification.