Jacques Le Mon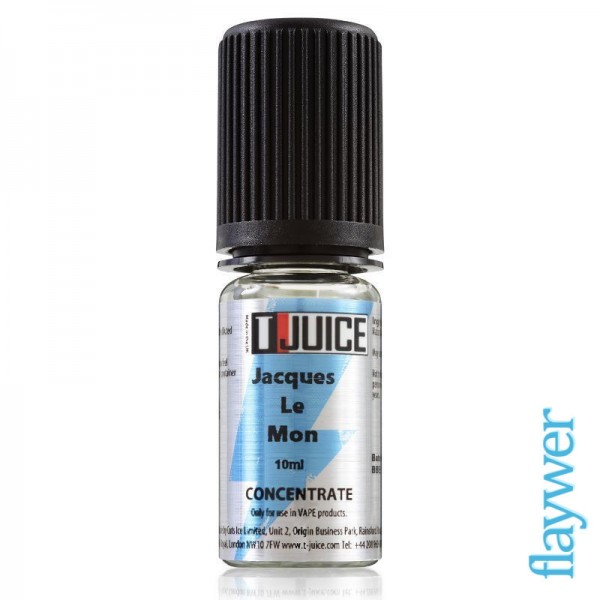 Jacques Le Mon is a complex lemon flavour with lemongrass and a slight...
more
Jacques Le Mon
Jacques Le Mon is a complex lemon flavour with lemongrass and a slight lime note. It is complemented with anise, Mojito and a little menthol in order to give the flavor an extra freshness.
Geschmack:
erfrischend, fruchtig, süß
Viskosität:
dünnflüssig
Farbe:
durchsichtig
Sucralose:
No
Read, write and discuss reviews...
more
Customer evaluation for "Jacques Le Mon"
From:
Farlon
On:
16 Aug 2020
Hat was / I like this
Bringt eine tolle Gewürz-Zitrus-Süßigkeiten-Frische, die nicht kalt ist.
Meine Einschätzung der maximal möglichen Konzentration:
ca. ~15%.

Brings a nice spice-citrus-candy-freshness, which is not cold.
My estimation of the maximum possible concentration:
around ~15%.
From:
Nino
On:
4 Sep 2016
Boooaahh
Der Wahsinn. Jedes weitere Wort wäre überflüssig. Angemischt mit 6% auf 60/40/0
Ich gebe 9 Punkte weil ich nach dem ersten noch nicht sagen kann dass es Das ist.

From:
FG77rulez
On:
1 Aug 2016
Lipton IceTea ohne Kohlensäure
Geniales Sommer Liquid welches mich sehr an Lipton Ice Tea aus der Dose erinnert nur ohne Kohlensäure :)
Kann es wirklich nur empfehlen. Ich selbst nutze dieses Aroma mit einer 50/50 VG/PG Base auf 0mg Nikotin für zwischendurch und kann es wirklich wärmstens empfehlen.
From:
Guido
On:
20 Dec 2015
Lecker nach Zitrone bzw. Zitronentee
Schmeckt richtig Erfrischend nach Zitrone. Es errinert mich sehr stark an den Zitronentee den man sich mit kalten Wasser selber anmischen kann.
Angemischt mit 15% Basis 60/40/10 Reifezeit 7 Tage
Klare Kaufempfehlung
From:
taps
On:
3 Oct 2015
fisherman´s friend zitrone
8 % auf 50/50 Base 3mg + 3% Menthol, Subohm.

Ein leckeres Zitronenaroma, eher schwerer und süßlicher im Geschmack.
Es erinnnert mich an das Eistee Granulat. Ich mische gelöste Mentholkristalle mit hinein um es etwas "leichter" zu machen.
Es schmeckt wie Fisherman´s Friend Zitrone.

Der Zitronenmix ist komplex und sehr interessant!
Anis schmecke ich nicht heraus.


From:
Lars
On:
28 Sep 2015
Sehr lecker, Dauerdampf geeignet
Im Vordergrund liegen eindeutig die Zitrusnoten und das Zitronengras, welches manche hier wohl als Heu deuten. Nein, eindeutig Zitronengras.

Das Ganze gepaart mit einer leichten Mentholfrische und einem Hauch Anis im Hintergrund. Nur den beschrieben Mojito finde ich hier nicht.

Das Aroma ist sehr erfrischend und lecker und ich kann es uneingeschränkt empfehlen.

Für mich eines der besten Aromen, die ich bisher in der Dampfe hatte. Angemischt mit 10% in einer 80VG 20H2O Base.


From:
not Ernst
On:
15 Sep 2015
Sommermix 2015
Die Überraschung des Jahres! Fantastisch gelungene Mischung aus sauren Citrusfrüchten und angenehmer Süße wie ein leckeres Zitroneneis mit einem kaum wahrnehmbaren Hauch von Minze. Sehr erfrischend aber nicht aufdringlich und sehr wohlschmeckend. Keine Spur von irgendwelchen Heu- oder anderen störenden Beigeschmäckern.
Uneingeschränkt dauerdampftauglich.
Es war meine Pflicht, die Ehre dieses sehr gut gelungenen Aromas wieder herzustellen und möchte an dieser Stelle auch an die große Verantwortung eventuell übereifriger Bewertungen, welche möglicherweise ohne ausreichender Reifezeit oder vergammelter Hardware zustande kommen hinweisen. Bewertungen sollen eine Orietierungshilfe für andere Dampfer darstellen , wohlweislich Geschmäcker auch sehr unterschiedlich sein können .

From:
Tom
On:
14 Sep 2015
Gutes Zitrone Aroma
Habe es auch mit 8% angemischt und dies reicht aus. Der beigeschmack von Heu verschwindet nach drei Tagen Reifezeit! Danach ist es ein sehr gutes zitronen aroma, leicht säuerlich und süss. Zitrone hat ein natürlichen gesxhmack und ist überhaupt nicht agressiv wie andere zitronenliqs. Ich kann es empfehlen 7/10p
From:
Herbert
On:
10 Sep 2015
Man muss es halt brobiert haben...
...ist nicht so mein Ding. Im Hintergrund empfinde ich einen Beigeschmack von Heu. Ich habe es von meiner Einkaufsliste gestrichen. 8% reichen m.E. völlig aus.
Auch an dieser Stelle meinen Dank an das Flaywer-Team, super schnelle Lieferung, bald mal wieder.
Write an evaluation
Evaluations will be activated after verification.