Jack the Ripple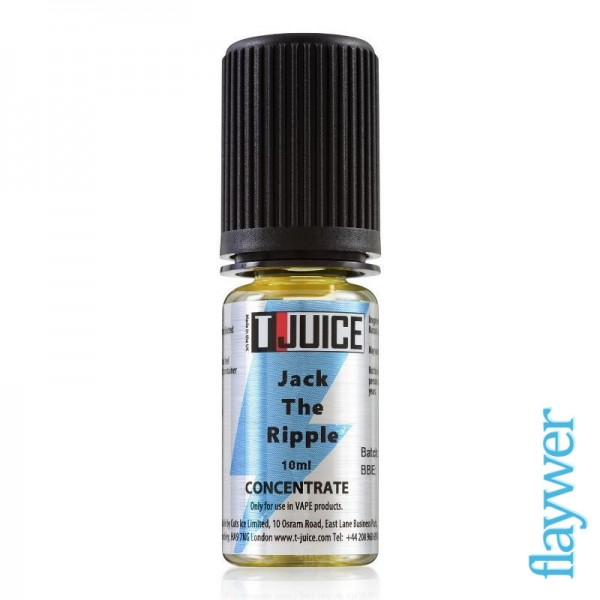 From €2.95 *
€4.69 *
(37.1% Saved)
Content:
10 Milliliter (€0.30 * / 1 Milliliter)
Prices incl. VAT plus shipping costs
Jack the ripple is one of the most popular T-Juice flavors. It is a british "raspberry ripple...
more
Jack the Ripple
Jack the ripple is one of the most popular T-Juice flavors. It is a british "raspberry ripple ice cream". Raspberry ripple is the name for an ice cream, where raspberry syrup is injected into vanilla ice cream. The result is a very well made ​​and absolutely delicious - sweet creamy vanilla ice cream with a mild sour raspberry flavor.
Geschmack:
cremig, säuerlich, süß
Viskosität:
dünnflüssig
Farbe:
hellgelb
Sucralose:
No
Read, write and discuss reviews...
more
Customer evaluation for "Jack the Ripple"
From:
Farlon
On:
16 Aug 2020
Ok, aber nichts besonderes / Ok but nothing special
Vanillig fruchtig lecker, nicht gut definierbar, leider nicht stark.
Meine Einschätzung der maximal möglichen Konzentration:
ca. ~30%.

Vanilly fruity delicious, not easily definable, unfortunately not strong.
My estimation of the maximum possible concentration:
around ~30%.
From:
Admin
On:
29 Aug 2020
Vielen Dank für die Bewertung! Das kann auch an der Dosierung liegen. T-Juice werden in der Regel mit 7-12% angemischt. Eine zu hohe Dosierung kann teilweise zum gegenteiligen Effekt führen.
From:
Anke
On:
17 Apr 2020
Sehr guter Geschmack
Der Geschmack ist überwältigend... Cremig wie Eis mit etwas Frucht... ? Wie bei jeden T-Juce Aroma ist die Reifezeit etwas länger, damit der Geschmack raus kommt, aber es lohnt sich. Schnelle Lieferung und tolle Produkte.. Danke ?
From:
Gunter K.
On:
4 Jan 2017
Einer meiner Lieblingsaromen
Sehr lecker, wirklich etwas von Vanilleeis mit Himbeeren, mit 7% angemischt.
From:
Marvderdampfer
On:
23 Nov 2016
Sehr lecker :p
Ein süßes Vanilleeis mit leichter Tabak Note gefolgt von einem Hauch Himbeern. Zusammen Ergeben diese Sachen ein perfektes Aroma nach gut 1 1/2 Wochen Reifezeit ein super Aroma. Die süße wird nicht aufdringlich der Tabak passt einfach und die himbeere rundet alles einfach nochmal ab. Die süße der Vanille des Tabak und der Leicht säuerlichen Himbeeren ist meiner Meinung nach eins der besten Aromen überhaupt.

Danke t-juice ;)

Es gibt nur 8 von 10 Punkten wegen der langen Reifezeit
From:
Absolute V.
On:
1 Apr 2016
Jack
Dem Maggi Geschmack kann ich mich nicht anschließen, diesen konnte ich nur bei Aromen/Liquids mit Ahornsirup feststellen. Das Maggiartige ist eindeutig eine Karamellnote ! Das Liquid sollte wie jedes Kuchen oder Vanillearoma und alles was in die Richtung geht, erst einmal min. 1-2 Wochen reifen. Wegen dem "Maggi" wurde es gleich am ersten Tag mal getestet ;-) Der Tank war bestens gesäubert, gemixt wurde 15% auf 50/50 ! Für mich ein Vanilleeis mit Caramelsoße garniert mit Himbeere. Die Himbeere könnte ein kleinwenig mehr sein. Ich warte mal jetzt den Reifeprozess ab. Meiner Erfahrung nach geht das Caramell ein wenig und die Himbeere könnte mehr in Vorschein treten.

Fazit : Tolles/ausgefallenes Aroma 8 Punkte von 10 vorab muss noch reifen

Tip: 50/50 oder 70/30 Base , Reifezeit 1-2Wochen

Geht gar nicht
Schmeckt nur im Abang nach leichter Vanille aber vorab irgendwie nach Tabak
From:
Andi
On:
6 May 2015
Leider nicht meins
Habe es auf Traditional mit 15% angesetzt und leider kann ich auch nach 2 Wochen Reifezeit die genannten Aromen nicht erschmecken.
Mupfig, platt und keinHimbeere erkennbar für mich.
Bisher mein einziger Ausreißer der T-Juice Aromen,
From:
Uwe Uhlenburg
On:
10 Feb 2015
Hat was....
Ich wollte nicht voreilig bewerten und habe nun volle 6 Tage Reifezeit abgewartet. Nach 3 Tagen seltsamer Geschmack und mein Umfeld wollte mich schon in Einzelhaft unterbringen, da ein ganz schlimmer "Maggi-Geruch" beim ausatmen. 2. Chance 5 Tage Reifezeit....schon wesentlich besser. Maggi-Geruch ist fast weg.
Heute, nach 6 Tagen, war ich erstaunt.
Himbeere deutlich, aber dennoch dezent im Hintergrund. Sehr süsse, aber für mich ungewohnte, üppige Vanille. Recht gut gelungenes Aroma,obwohl immer noch Maggi zu riechen ist
ich denke, man sollte ihm, um nicht enttäuscht zu werden, eher 8 Tage zum reifen geben. Dann wird es sicher noch etwas besser.
Angesetzt mit 13% im Vapor Giant Mini auf Watte mit o,5 Ohm getestet. Wer es noch intensiver mag kann beruhigt mit 15 % beginnen.
From:
Hausmeister01
On:
15 Dec 2014
Lecker Himbeer/Vanilleeis
Das Jack the Ripple schmeckt wunderbar. Die Himbeere schmeckt fein und kommt wirklich im Hintergrund leicht säuerlich zum Vorschein. Lecker mit Vanille abgeschmeckt. Bin wirklich auf die weiteren T-Juice Aromen gespannt. Wieder mal ein Aroma mit einer eigenen Komposition, die überzeugt. Einziger Minuspunkt ist die doch sehr hohe Dossiermenge. Probierte zuerst mit 10%, dies reicht jedoch wirklich nicht. Die empfholenen 15% stimmen wohl wirklich.
Write an evaluation
Evaluations will be activated after verification.