High Voltage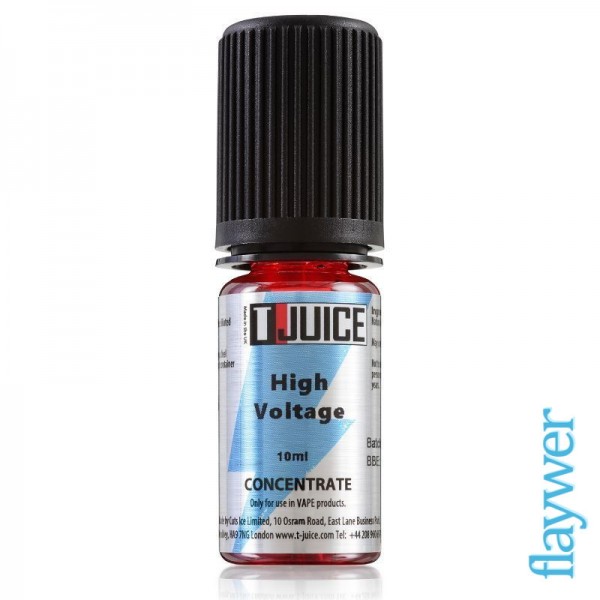 High Voltage is an intense blend of maraschino cherries and menthol. First, there is the...
more
High Voltage
High Voltage is an intense blend of maraschino cherries and menthol. First, there is the sweetish cherry flavor, than you feel the icy menthol at the back of your throat.
Geschmack:
erfrischend, fruchtig, süß
Viskosität:
dünnflüssig
Farbe:
rot
Sucralose:
No
Read, write and discuss reviews...
more
Customer evaluation for "High Voltage"
From:
Din-57
On:
17 Apr 2020
Sehr gut
Lecker schmeckendes Kirscharoma, das mich an berühmte ( Name vergessen) Kirschbonbons erinnert. Danke flaywer
From:
Dinslaken
On:
24 Jul 2018
Gutes Aroma
Ich bin sehr zufrieden. Es schmeckt wie Wick Kirschbonbons, daher volle Sterne.
From:
Marc H.
On:
4 Nov 2017
Menthol definitiv
Nachdem ich bisher nur ein Clone Aroma verkosten durfte war ich doch auf das Original gespannt.
Riechen tut es echt gut, beim Dämpfen jedoch haut das Menthol ordentlich rein. Von der Kirsche schmecke ich wenig, dafür ein anderes mir unbekanntes Aroma welches mich persönlich stört.
Daher nicht meins, schade
From:
Melanie
On:
28 Oct 2017
Gelungen
Ich mag eigentlich keine Aromen mit Anis, menthol oder irgendwelchen Kräutern. Aber t-juice schafft es immer wieder , mich dafür zu begeistern.
From:
Siggie
On:
18 Feb 2017
Ungenießbar
50/50 mit 15%

War auf der Suche nach einem fruchtigen Menthol Liquid.

Habe mich gegen das Res Astaire und für das High Voltage entschieden.

Ich fass mich kurz: Widerlich!
Also das Menthol kickt ungemein, keine Frage. Doch was soll dieser widerliche Seifengeschmack? Schmeckt wie n Kirschraumerfrischer riecht.

Also für mich gar nichts .
3Punkte statt 1 , da es möglich sein könnte , dass es mit weniger % evtl genießbar ist.

From:
chris
On:
23 Sep 2016
hm...ne gar nicht meins
Ich mag bisher alle t-juice Aromen und das Red Astair ist sogar ein all day von mir ,aber dieses Aroma....wähh....hab es mehrmals versucht anzumischen von 15-9%. Und ständig dieser penetrant bittere Geschmack....gar nicht meins
From:
Giuseppe
On:
27 Jul 2016
Riecht gut aber benötigt paar Tage Reifzeit
Also wenn das Aroma mal so schmeckt wie es riecht bekommt es von mir locker 9 Punkte.

Habe es gestern Abend angemischt und war heute NICHT Dampfbar.
Ein Unangenehmer Seifengeschmeck den man kaum aus dem Mund bekonmmt :-D

Angemischt mit einer 50/50 Base und 10&
From:
Admin
On:
28 Jul 2016
Danke für die Bewertung. Wenn Sie Lust haben, ihre Erfahrungen nach der Reifezeit zu ergänzen, hinterlassen Sie einfach eine zweite Bewertung. Wir können die erste dann für Sie löschen. Viele Grüße!
From:
markus.g70
On:
2 Jun 2016
Super Aroma!!! Geschmäcker sind verschieden aber für mich ist es sehr gut!!!! Probiert's es dann gspiad's es !!!
From:
Admin
On:
2 Jun 2016
Danke für die Bewertung! Wir haben ihre Mailadresse entfernt.
From:
Fishman
On:
25 Feb 2016
grausig....
Erinnert an diese kleinen Kirschlollies, leider schmeckt es sehr künstlich, und im Hintergrund bleibt ständig ein penetranter Nachgeschmack nach Terpentin oder Benzin - nicht zu ertragen!
From:
Guido
On:
20 Dec 2015
Kirsche mit Menthol
Es schmeckt nach Kirsche aber Der Mentholgeschmack ist stärker. Aber trotzdem schmeckt es sehr Erfrischend.
From:
Leo M.
On:
26 Nov 2015
Lecker
Endlich habe ich ein Kirscharoma gefunden was intensiv nach Kirsche schmeckt und nicht nach Seife, die Mentholnote gibt noch eine herrliche Frische hinzu. Fantastisch pur oder auch um andere Liquids aufzupeppen. Ist mittlerweile mein Allday geworden. 50/50 Base, ohne Reifezeit gut dampfbar, nach 5 Tage perfekt.
Lieferung wie immer sehr schnell, sicher verpackt und immer wieder ein kleines Geschenk dabei, ein fettes dankeschön!
From:
Asterion
On:
11 Oct 2015
genau nach beschreibung
hab mir eine probe geholt war ca 11 % vom high Voltage und das reicht vollkommen für mich
Das Aroma riecht nach Kirsche perfekt wie wen ich in meinem garten stehe und sie frisch hole.
leider überwiegt das Menthol die Kirsche zu viel für mich man schmeckt zwar noch die Kirsche aber nur ganz dezent.

also die Beschreibung passt genau


From:
Gutzeit, Uwe
On:
27 Jul 2015
Mentholgranate
Geht ab wie Schmidt's Katze. BillowV2 auf eVic VT Ni200 0,08 Ohm. Absoluter Mentholdruck, echt eisig, nach dem Ausatmen legt sich der Kirschgeschmack auf der Zunge ab. Für zwischendurch ne nette Alternative
From:
taps
On:
11 May 2015
geniales menthol! lecker leichte kirsche!
Das Aroma selbst riecht himmlisch! Die Kirschnote ist einfach nur göttlich. Leider kommt es im Dampf nicht so rüber. Der erste Zug ist fruchtig süß. Der zweite ist frisch und der dritte ist ein eisiges Menthol wie ich es noch nie erlebt habe. Wer Menthol mag wird High Voltage lieben! Ich mische es nur mit 5% an und es reicht für´s Subohm dampfen voll aus! Es ist das perfekte Sommerliquid für die Zweitdampfe jedoch auch als Allday Liquid zu gebrauchen. 7 von 10 Punkten.
Write an evaluation
Evaluations will be activated after verification.