Green Steam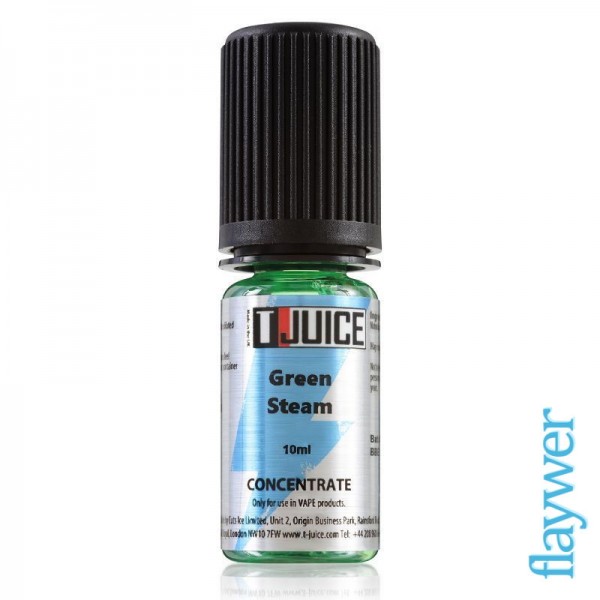 This flavours is a beautiful, very sweet dark berry mix with blackberry and blueberry on top...
more
Green Steam
This flavours is a beautiful, very sweet dark berry mix with blackberry and blueberry on top that blend wonderfully to a delicious and round total composition. The reason for naming this flavour "Green Steam" will probably always remain a secret of T-Juice.
Geschmack:
erfrischend, fruchtig, süß
Viskosität:
dünnflüssig
Farbe:
grün
Sucralose:
No
Read, write and discuss reviews...
more
Customer evaluation for "Green Steam"
From:
Din57
On:
2 Sep 2020
Was ist das ?
..das so gut schmeckt? Egal, soo lecker.
From:
Farlon
On:
16 Aug 2020
Voll ok / Totally fine
Candy-Grüntee.
Meine Einschätzung der maximal möglichen Konzentration:
ca. ~25%.

Candy green tea.
My estimation of the maximum possible concentration:
around ~25%.
From:
Admin
On:
29 Aug 2020
Vielen Dank für die Bewertung! Das kann auch an der Dosierung liegen. T-Juice werden in der Regel mit 7-12% angemischt. Eine zu hohe Dosierung kann teilweise zum gegenteiligen Effekt führen.
From:
Marvderdampfer
On:
23 Nov 2016
Nicht alles was lecker riecht schmeckt auch ;)
15% 50/50 3mg

Also vom Geruch her ist es einer der besten aromen überhaupt, aber Geschmacklich überhaupt nicht meins. Es errinert mich stark an das
"Lila Wolke" liquid mir persönlich undefinierbar nach was es schmecken soll für Leute die intensiven Geschmack mögen ganz klar ein Muss.
From:
Sebastian
On:
21 May 2016
Fruchtkaugummi
15%, 50/50, 3mg

Testgerät: Aromamizer, Dual Coil

Als erstes habe ich eine süß-waldige Note geschmeckt. Erinnerte ein bißchen an die Fichtenwald Autoerfrischer. Aber keineswegs negativ.
Nach einer Weile dampfen, schmeckte ich diese Note jedoch nicht mehr heraus. Stattdessen schmeckte es wie ein süßer Waldfrucht Kaugummi. Die Kaugummi Note ist deutlich im Vordergrund. Für mich ein sehr gutes Aroma, was ich sicher wieder kaufen werde.
From:
taps
On:
5 Oct 2015
komplex!
8% , 50/50 3mg + Menthol, Subohm.

Total der Blaubeermuffin, jedoch ohne Cake und Creme und sondern komplexer Frucht. Ich schmecke eine leichte Waldmeisternote mit heraus. Das Aroma ist vielschichtig! Es kommt mit einem Throathit daher der deutlich spürbar ist. Insgesamt eher ein herber Dampf.

Ich habe mal 2% Menthollösung ergänzt und bin begeistert. Deutlich süßer, milder und frischer mit leckerer Fruchtigkeit. Throathit ist verschwunden.

7 von 10 Punkten.


From:
Letizia
On:
27 Jan 2015
sehr gut
Green Steam schmeckt mir sehr gut. Fruchtig aber irgendwie habe ich das Gefühl dass noch ein wenig Menthol drin ist, kann mich aber täuschen.
Write an evaluation
Evaluations will be activated after verification.