Forest Affair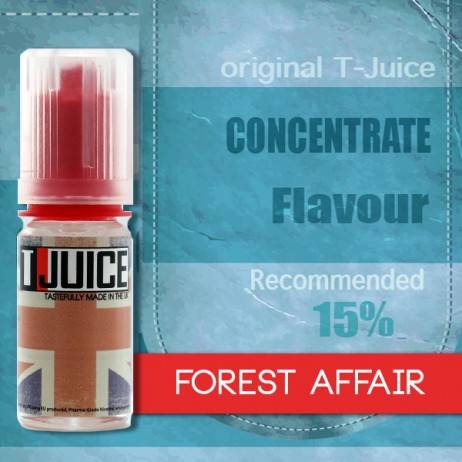 Content:
10 Milliliter (€0.47 * / 1 Milliliter)
Prices incl. VAT plus shipping costs
Ready to ship today,
Delivery time appr. 4-5 workdays
Forest Affair is an exceptionally complex fruit blend of 10 different flavors that complement...
more
Forest Affair
Forest Affair is an exceptionally complex fruit blend of 10 different flavors that complement each other wonderfully. The basic ingredients are blackberry, blueberry, raspberry and sloe, accompanied by an unobtrusive vanilla. Definitely a recommendation for all fans of fruit flavours!
Read, write and discuss reviews...
more
Customer evaluation for "Forest Affair"
From:
Matthias
On:
11 Jun 2018
Leckeres Frucht Aroma
Ist eines meiner Lieblings Aromen.
Das fruchtige leicht kühle finde ich besonders an warmen Tagen gut. Schmeckt aber nicht nach Menthol oder so.
Verwendet wird es für Dl dampfen und 3mg Nikotin.
Meine Empfehlung ist hier bei ner 70/30 Base so 12% Aroma und 1 Woche Reifezeit.
From:
Biteman
On:
28 Jun 2016
Blumig, abgestimmt und irgendwie echt sau gut
Bin ziemlich begeistert. Habe es mit reiner VG und 10% PG PG angerührt und mit 10% Aroma.

Selbst mit viel VG ist das Aroma mit 10% sehr intensiv.
Die beerige Note ist eher dezent die florale besonders direkt nach dem Anmischen sehr intensiv. Vanille schmecke ich kaum.
Ich schließe mich easyjones an das Garden Affairs als Name besser gepasst hätte, aber trotzdem ist das Aroma sehr gut abgestimmt und echt lecker.
Ich habe zum Test etwas Holzaroma hinzugefügt um in Richtung Walde zu kommen und muss sagen das passt sehr gut.
Wer Blumen und Beeren mag wird hier nicht enttäuscht.
From:
Guido
On:
20 Dec 2015
Schmeckt in Blaubeerrichtug und immer anders
Angemicht mit 15% Basis 60/40/10 Reifezeit 7 Tage

Schmeckt irgendwie in einer Beerenrichtung, sauerlich Süß und irgendwie immer bei fast jeden zug anders ...
From:
sidux
On:
28 Nov 2015
erfrischend
schmeckt errfrischend, kühl und nicht so süss.
Hab es als Probe in der letzten lieferung mitbekommen, gleich mal angemischt mit 10%, war sofort begeistert.
Angemischt mit 50/41/9 mit 3mg Nic, erst mit 0,5 Ohm bei 40 Watt und mit TC auf SS mit 240°, habs gleich nachgeordert, muss mit in den Urlaub :-)
From:
Lars
On:
9 Feb 2015
Fruchtig...blumig...säuerlich...süß...
...wie soll ich es sonst beschreiben.
Der erste Eindruck war Ahoi Brause in Richtung Himbeere/Brombeere mit einer deutlichen Blaubeer-Note. Säuerlich frisch.

Nach weiterem Probieren ist ein Hauch Vanille im Hintergrund zu schmecken. Es wird auch deutlich süßer.

Ups, da ist die Brause wieder....diesmal drängt sich aber ein deutlicher floraler Geschmack mit auf. Rosenwasser...ja, das könnte es sein. Die Süße nimmt wieder ab, es wird säuerlich.
Oder doch nicht? Wieder Vanille, süß und cremig....

Was soll ich sagen, es ist ein Wechselspiel der Aromen, welches bei keinem Zug gleich schmeckt.

Auch die Länge des Zuges, die Art (Backe oder Lunge) und die Dauer variiert die Aromen.

Ein sehr interessantes Aroma, bei dem ich wohl noch einige Zeit brauche um wirklich alle Nuancen zu entdecken.

Einzig das Rosenwasser stört hin und wieder. Ich mochte den Geschmack von Blumen noch nie wirklich.

Angemischt habe ich es in einer 80VG/20H2O Base mit 10%.
From:
Letizia
On:
27 Jan 2015
sehr spezielles Frucht Aroma
Forest Affair ist wirklich ein ganz spezielles Frucht Aroma. Ich schmecke Brombeere raus aber es riecht auch irgendwie Blumig. Ich mag es sehr und werde es ganz bestimmt wieder bestellen!
From:
Vicky
On:
24 Nov 2014
interessant und anders....
Sehr interessante Mischung, muss man aber mögen. Die Beerenmischung die man sehr gut rausgerochen hat, kommt im Geschmack nicht mehr so gut durch. Vanille kann ich auch nicht direkt rausschmecken. Es ist sehr "blumig" und leicht herb im Geschmack mit einem beerigen Ton im Abgang. Habe es mit 15% in traditional angemischt. Ein Allday wird es für mich nicht, aber für ab und an mal ist es eine sehr interessante Abwechslung. Hatte mir aber unter der Beschreibung letztendlich auch etwas anderes vorgestellt....
From:
easyjones
On:
16 Nov 2014
Gut, ja... irgendwie mag ich das...
Doch doch...
T-Juice Aromen sind nicht schlecht, muss ich zugeben.
Das Forrest Affair hat ne angenehme florale note, was ich eigentlich nicht mag, aber hier... doch es passt. Als würde man alle guten Beeren und Kräuter des Waldes zusammenpacken. :)
Ich hätte mir etwas mehr frische/ herbe gewünscht. Das ist es was ich mit Wald verbinde. Wo ist die Kiefer, die Tanne... wo der Waldmeister? Das fehlt mir. So aber, so wie es ist, könnte es auch einfach ''Garden Affair'' heissen.
Der Name ist etwas verfehlt, das Aroma aber im Prinzip gut.
7 Punkte weils letztendlich gut schmeckt.

Mit 10% angemischt, also ein wenig unter der Empfehlung, passt für mich aber, intensiv genug ist es auf jeden Fall auch mit 10%.

Nett um mal auszuprobieren... mehr aber halt auch nicht für mich. :)
Write an evaluation
Evaluations will be activated after verification.