Afro Dizziac

Das Aroma wurde von T-Juice eingestellt. Bitte entschuldigen Sie!

Afro Dizziac ist unnachahmbar, aber wir haben andere

Anis Aromen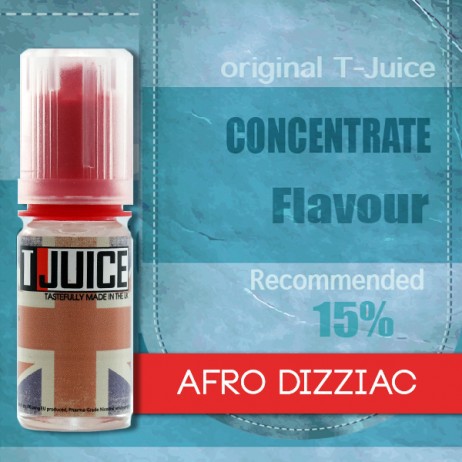 This product is currently not available.
Please inform me as soon as the product is available again.
Content:
10 Milliliter (€0.47 * / 1 Milliliter)
Prices incl. VAT plus shipping costs
Out of stock. Available in aprox. 4-6 weeks
The word "Afro Dizziac" goes back to the Greek goddess of love Aphrodite. We do not like to...
more
Afro Dizziac
The word "Afro Dizziac" goes back to the Greek goddess of love Aphrodite. We do not like to judge, whether the flavor has corresponding effects, but it is an exceptionally delicious blend of intensive anise, peppermint, fenugreek and some rare herbs. With good reason one of the most popular T-Juice flavors!
Read, write and discuss reviews...
more
Customer evaluation for "Afro Dizziac"
From:
Warronn
On:
21 Aug 2016
Sehr viel Anis
Wer Anis mag wird dieses Aroma richtig gut finden. Mir persönlich ist der Anis Geschmack zu heftig. Die anderen Zutaten schmeckt man garnicht mehr richtig raus...
Wenn man es mit 10% mischt schmeckt es sehr intensiv.
Meine Freundin findet es super. Es ist ihr Liebling unter den Aromen
10% schon sehr krass
Geschmack top, Kräuterexplosion pur. Mischung mit 10% ist mir mit meiner 0,5er Subohmdampfe jedoch echt zu heftig, würde fast sagen lieber mal mit 5% anfangen und hocharbeiten.
From:
Puppi
On:
28 Aug 2015
Schmeckt wie ein bekanntes Magenbitter. Kann mich damit nicht anfreunden.
From:
Fishman
On:
7 Aug 2015
Listerine oder Odol?
Irgendwie riecht und schmeckt es wie irgend son Mundwasser das ich kenn, komm jetzt nicht drauf.
Für Zwischendurch vielleicht ganz witzig, aber auf Dauer?......Neeee muss nich unbedingt sein...

Dazu kommt, das das Zeuch einen Farbwechsel Effekt hat ähnlich Pernod oder Ouzo, aus einer klaren, bernsteinfarbenen Flüssigkeit wird eine trübe, milchig gelblich-bräunliche Suppe, was im Glastank äusserst unappetittlich aussieht und die Coil unnötig schnell zusetzt....

T-Juice: Nacharbeiten!
From:
Mr T
On:
18 May 2015
Heftig aber gut
Wie zu erwarten war, es ist wieder mal ein geniales Aroma von T-Juice.
Sehr belebend und stark im Geschmack. Anis pur.
From:
Drpepper
On:
6 Mar 2015
Ich hatte gehofft dass der Anis und die Minze im Vordergrund stehen, aber es schmeckt einfach extrem nach irgendwelchen Kräutern.
Nach ein paar Zügen riecht direkt der ganze Raum wie ein Kräuterladen.
Es ist sicher ein sehr ausgefallenes Aroma, aber mir als Red Astaire und Black n Blue Fan doch zu extrem.
From:
Beagle77
On:
7 Nov 2014
Alter Falter was für ein geiles Aroma :-)
man schmeckt die Kombi Anis und Pfefferminz und hinten raus
die Kräuter.
Sehr gut abgestimmt das ganze.
Dosierempf. 15% ist etwas hoch wird es mal mit 10 - 12%
probieren.
Write an evaluation
Evaluations will be activated after verification.